Fall/Winter 2014-2015: Jewelry Trends in Fashion Week
Jewelry is back! With a decline in jewelry presence with fashion, based on minamalism, low key jewelry design and downplay; it seems for now in jewelry, 2015-2015 brings back the bling!
From giant pearls, large 60's style triangles, mixed media, bling chain, and a ring on every finger - jewelry design is all fired up to get in the fashion scene.
Early evidence is shown with Paris Fashion Week. Just the beginning of the Fashion circuit to date - with most likely more jewelry extravagance down the turnpike.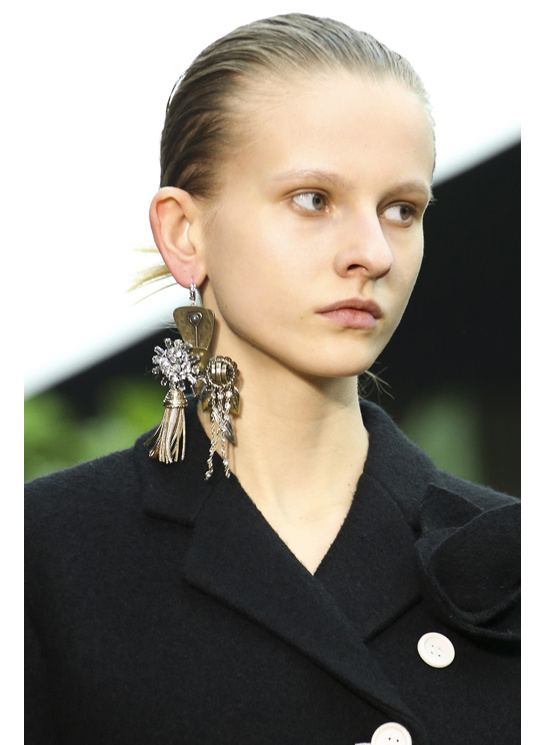 With the single earring at Céline, a fur and leather mash-up at Fendi and creole hoops at Balmain, we've trawled the runways of New York, London, Milan and Paris so you don't have to. A round-up of the jewelry trends for Fall/Winter 2014-2015.

Phoebe Philo created some sublime long coats for Céline Fall/Winter 2014-2015. A single charm earring counter-balanced the masculine lines and straight cuts.
Bright, fluid gold thread cuffs swayed to the rhythm as the girls walked the catwalk at Chloé Fall/Winter 2014-2015.
Bamboo-style oversized gold hoops echoed Olivier Rousteing's urban jungle for Balmain Fall/Winter 2014-2015, alongside stacked gold bangles and chokers.
For Fall/Winter 2014-2015, Fendi continued the play on fur that has been the secret to the Italian house's success since the early days. Touches of soft fur appeared here as a Karl Lagerfeld doll, and there on a choker or alligator skin cuff, as fabric and metals combined to form beautiful jewelry.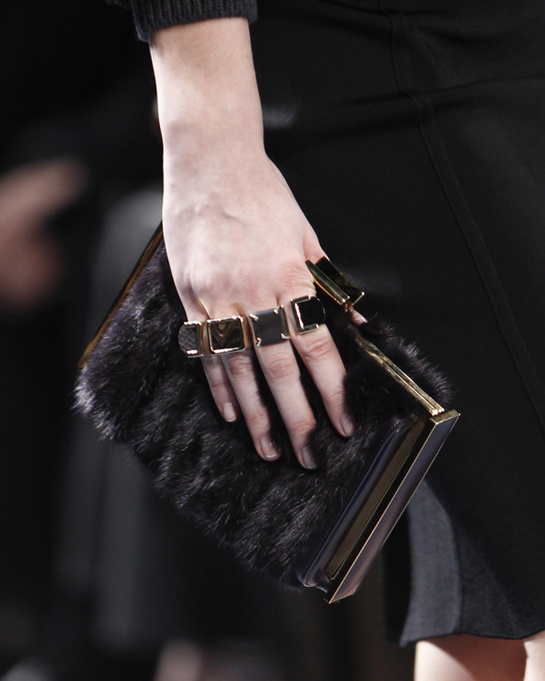 This first collection from Nicolas Ghesquière featured eye-catching colored leather patches on Sixties tailoring and mini-dresses. Exotic leather collars were set off with a single gold earring.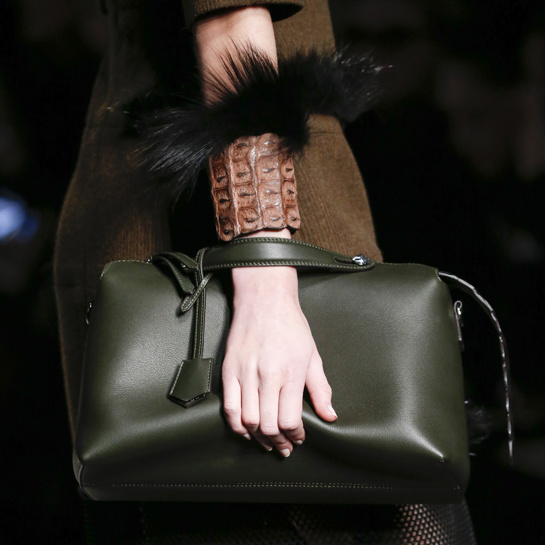 Domenico Dolce and Stefano Gabbana created a contemporary fairytale for Fall/Winter 2014-2015. Gold jewelry embellished gloves and bags, while huge floral crystal statement necklaces bloomed like enchanted Sicilian flowers.
The fashion crowd stepped back to the East London of the mid-Sixties atSaint Laurent, with models in lamé mini-dresses and Mary-Janes, as the light danced off the straight lines of variable sized geometric earrings.
From the heath-style runway right down to the hand bracelets, the natural environment seemed to be encroaching on the Fall/Winter 2014-2015collection at Alexander McQueen, reinforcing the wild beauty of Sarah Burton's pieces.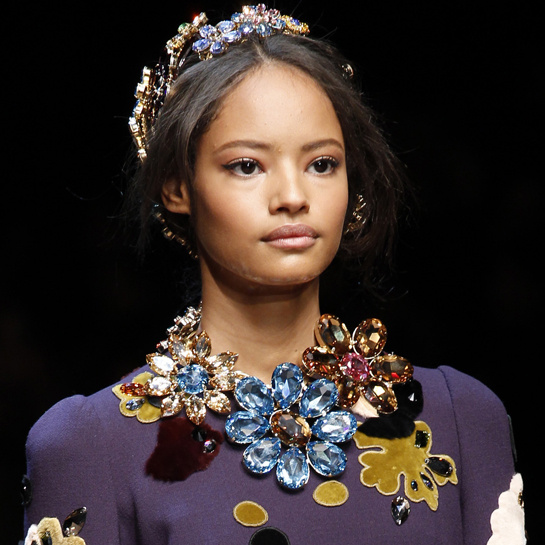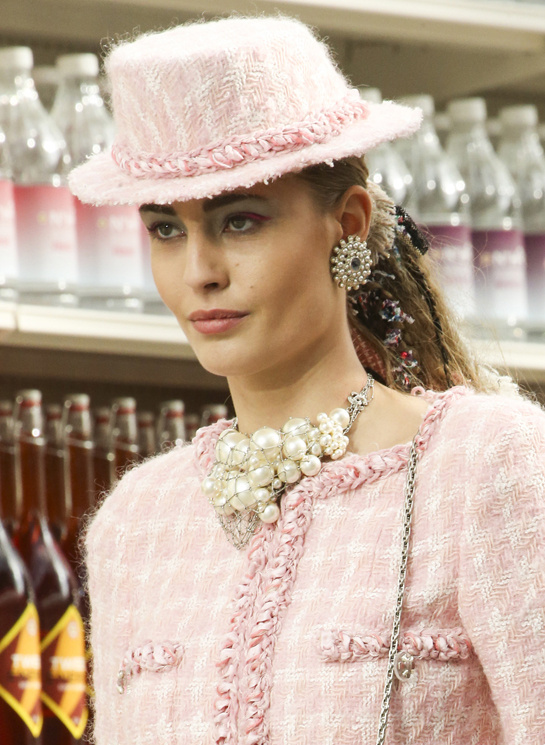 Master of perspective Karl Lagerfeld produced a lively re-working of the house codes for Chanel Fall/Winter 2014-2015. The fully branded shopping center metaphor carried through right down to the edible candy necklaces and pearls worn as a bandana, caught in a metal net slung around the neck.
For Balenciaga Fall/Winter 2014-2015, Alexander Wang focused on colored knitwear, working in all-black silhouettes towards the end of the show, paired with graphic spiky Swarovski crystal statement chokers. The look was also mirrored in matching cuffs, for some serious sparkle.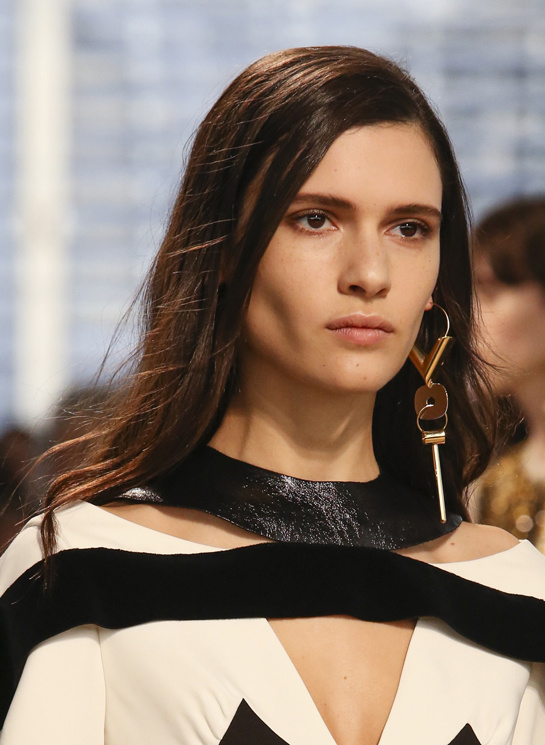 source: http://en.vogue.fr/jewelry/runway-trends/diaporama/fall-winter-2014-2015-jewelry-trends-fw2014-fashion-week-celine-balmain-fendi-chanel-saint-laurent/17884
Jewelry Trends in 2014 Fashion Week just keep getting better and better. A sign that jewelry will play a crucial part of fashion over the next 5 years. During the past 5 years jewelry trends were that jewelry fashion was at minimalism, almost non-existant. Now, jewelry in fashion is back in a big way. CGM Findings is loving the new jewelry designs coming forth crossing our fingers it's just a insight of fashion to come. It looks like jewelry fashion is here to stay and designers know it.
Read a few short related articles here:
Jewelry Design and Trends
http://cgmfindings.com/cgm/content/jewelry-design-and-trends-2014-2015
Fashion Jewelry Trends are Back
http://cgmfindings.com/cgm/content/fashion-jewelry-trends-2014-are-back
Fashion Jewelry Trends are IN
http://cgmfindings.com/cgm/content/fashion-jewelry-trends-are-in
Modernist Jewelry Design in the 1940s and 1950s
http://cgmfindings.com/cgm/content/modernist-jewelry-design-1940s-and-1950s
If you like Fashion and Fashion Trends / Join CGM Findings on Tumblr!
http://cgmfindings.tumblr.com/