Modernist Jewelry Design in the 1940s and 1950s
Life in the 1940s to the 1950s was unique.
It was a time of growth, movement, luxury and change.
During that time, along with many industries and materialed fields such as furniture, aerospace, automobiles, and home design -
was a field that was drastlicly overlooked: Jewelry Design and the Jewelry Industry.
Often seen are influences of furniture design that departed from standard thinking, as well as, automobile design,
which made a huge push into futuristic looks and aerodydnamic styling.
Planes, trains, and automobiles clearly showed this.
The styling and design was nothing new.
Art Deco, Art Neaveau, though completely different, still was mesmerized by lines and sleek distinct curves.
A prime example is in trains that were given in airodynamic look back in the 20s and 30s.
But, what many people overlooked, and is not often talked about is the social issues that played apart of these eras.
We know that there was a surgence after World War II to settle down and the age of the Suburban Settlement came about.
With the manufacturing of neighborhoods, homes, the making of new familyhoods with television, there became and began a time of luxury.
In travel, in automobiles and home design. Some of the most innovative and impactive designs where created in the 1940s and 1950s.
Also, during the 1950s was the aerospace growth and movement, creating jobs and education programs.
From that all, stemed something very interesting often overlooked.
The eccentric design and movement of jewelry in the 1940s and especially in the 1950s.

Harry Bertoia, 1941, Silver Brooch
During that era some of the most famous and innovative jewelry designs and designers were created.
It was a time of streamline design, curves, futuristic impression, creative artistry, and Modernism.
The jewelry supplies they used were at the time the start of innovative materials, never yet used.
Along with the popular use of silver, brass, and copper to fit the raw simplistic design.
Modernism jewelry design was not a one-time project or jewelry piece that was created at one moment.
Modernism jewelry design was a complete "movement," just as there were major painting "movements" throughtout centuries and time periods.
The Modernist age in jewelry marked a major time-frame in the world of jewelry design.
It was during that time that jewelry made a major change and was given, or formed, a design distinction that was not only like any other before it, but marked importance in design itself, moreso, that any other noted medium such as furniture design, or home design. It was like the car industry, "revolutionary," and - way ahead of it's time.
The are at times reference to key aspects of this era that are pulled to modern day for reference in today's jewelry making and design.
Although, more design elements are more often noted in other jewelry design eras such as pre B.C. cultures like the Greeks or Inca Indians, or Art Nouveau design.

Model wearing Art Smith Jewellery. The text at the bottom reads ...
Abstract collar in brass ($ 15), hanging mobile earrings ($ 6)and outsize cuff ($ 15, all Art smith) require simple high neck blouse as foil.


Arthur Smith was born to Jamaican parents in Cuba in 1917.
His family settled in Brooklyn in 1920 and Smith showed artistic talent at an early age." 1917-1982
Louisa Calder, Paris 1931 wearing Alexander Calders jewelry design.
Alexander Calder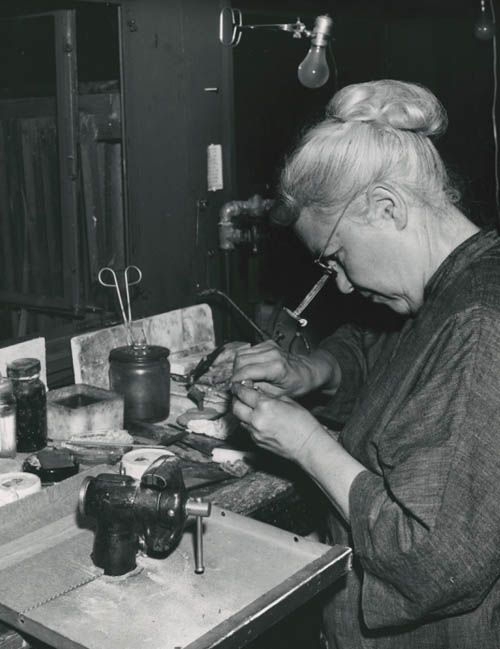 Margaret De Patta Working in her Studio, 1954
The Modenist jewelry design era was, as with other noted industries at that time,
one of the most influentual jewelry design periods in decades.
Collectors Weekly: Can you give us some background on the American studio jewelry movement?
Schon: You could go back to the Arts and Crafts movement, but modernist studio jewelry really began in the 1930s. Modern art was popular in Europe in the late 1920s, early '30s, but not so much in the United States. Then, with Fascism and Nazism happening in Europe, a lot of modern art innovators came to the U.S.
Then there were people like Sam Kramer, who was both an artist and writer. He was influenced by surrealism, and his jewelry was just very different.Laszlo Moholy-Nagy, who was involved in the Bauhaus, came over here and started teaching. He set up the New Bauhaus school in Chicago, which later became the School of Design and then the Institute of Design. People like Margaret De Patta started with him. De Patta was one of the earliest modernist jewelers and is still considered one of the best. She started thinking about the different concepts of non-objective jewelry design and things like the transmission of light and using different types of stones.
Alexander Calder was also one of the first. There's no founding father of American modernist jewelry, but Calder was one of the earliest and most influential sculptor-jewelers. He started doing wire sculpture in the 1920s. His jewelry was very simple and very direct. He worked in a primitive mode, inspiring a lot of the early American modernist jewelers to bring primitivism into their work.
Then there's Peter Macchiarini, who also started in the 1930s. He was another touchstone. He did jewelry based on African masks and cubist art. Constructivism was another force. I have a picture in my first book of a piece by Art Smith, a very influential black jeweler in New York, that is reminiscent of a piece by Kandinsky, who was a major constructivist painter. You can see the intersecting lines with the circles and the balls.
Referenced from an Interview with Marbeth Schon discussing American Modernist jewelry on Collectorsweekly.com
http://www.collectorsweekly.com/articles/an-interview-with-modernist-stu...
or for more information on the Modernist Jewelry Movement and Modernist Artists, you can Google
Elsa Freund
http://www.pinterest.com/deitrablackwell/elsa-freund/
also Betty Cooke
In Baltimore is the studio of American Modernist studio jewelry, Betty Cooke. Still going strong at a lively and engaged 89 years of age, she continues to design unique pieces characterized by simplicity and understated good design.
Over the course of career spanning nearly 70 years, Cooke has created an astonishing number of pieces of handmade jewelry that retain their contemporary feel and infectious appeal. As Fred Lazarus IV, president of her alma mater, the Maryland Institute College of Art (MICA), has observed, "There is an enduring timelessness about her work, and today, as she did 50 years ago, she continues to create work that is extraordinary in its clean, spare architectural line and stunning simplicity."
http://antiquesandthearts.com/news/2013/06/11/betty-cooke-modern-jewelry-pioneer/182791#.U2qwFoFdV1g
http://antiquesandthearts.smugmug.com/Covers/Betty-Cooke/

also Peter Macchiarini

Probably one of the best articles about the Modernism Jewelry Art Movement and
listings of Modernist artists can be found at :
The Wearable Art Movement
Part I
by Marbeth Schon
http://www.modernsilver.com/Walkerarticle.htm
A paragraph from Marbeth Schon's above article:
"The exhibition at the Museum of Modern Art in 1946, Modern Handmade Jewelry, was one of the first to acknowledge "wearable art as a movement in America." The show included one hundred-thirty-five pieces of jewelry and had an objective of bringing together the "artist as jeweler" and "jeweler as artist." Well known artists such as Alexander Calder and Jacques Lipchitz exhibited next to emerging studio jewelers such as Margaret De Patta and Sam Kramer. This show and the following exhibits at the Walker Art Center in Minneapolis in 1948, 1955, and 1959, showed the degree of artistic recognition achieved by a small group of artist jewelers in bringing jewelry into the realm of art after the end of WWII."
The Modernist Jewelry Movement pushed the Jewelry Design standards way past it's boudaries for the time, opening gateways for creative fine art jewelry today.
The Modernist Jewelry Movement was way ahead of its time creating some of the most unique pieces that retain technique and design value even to present day.
Setting new boundaries, creating new ideas, establishing value in fine art jewelry that is still being rethought and revalued even 84 years later.
The Modern Jewelry Movement was a important part of History, and all the Modernist Jewelry Artists of that era, paved the way for "Modern Fine Art Jewelry."
also read ~
http://www.schifferbooks.com/modernist-jewelry-1930-1960-the-wearable-art-movement-1798.html
http://www.mschon.com/msj.html
http://books.google.com/books/about/One_of_a_Kind.html?id=AVBQAAAAMAAJ
If you really enjoy Modernist Jewelry Art we recommend buying and supporting, Marbeth Schon's two books:
http://www.mschon.com/Modernistjewelry.htm
Modernist Jewelry 1930 - 1960, The Wearable Art Movement
Form & Function, American Modernist Jewelry, 1940 - 1970.
For a wonderful list of Modernist Jewelry Artists - [Thanks to Susan Sarantos and MetalCyberspace]
// go to :
http://www.metalcyberspace.com/moderne.htm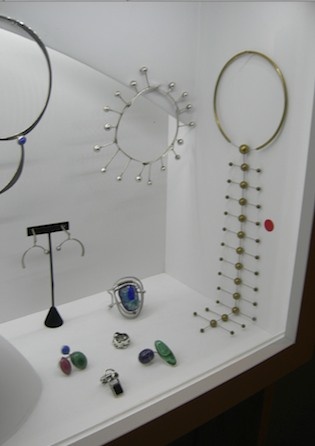 Also check out The impact of Modernist Jewelry Design